COMBINED DISTRICT RADIO CABS (CDRC)
Trading as Central Coast Taxis
***From 01 March 2021 our Booking Fee will increase by $1 to $3.50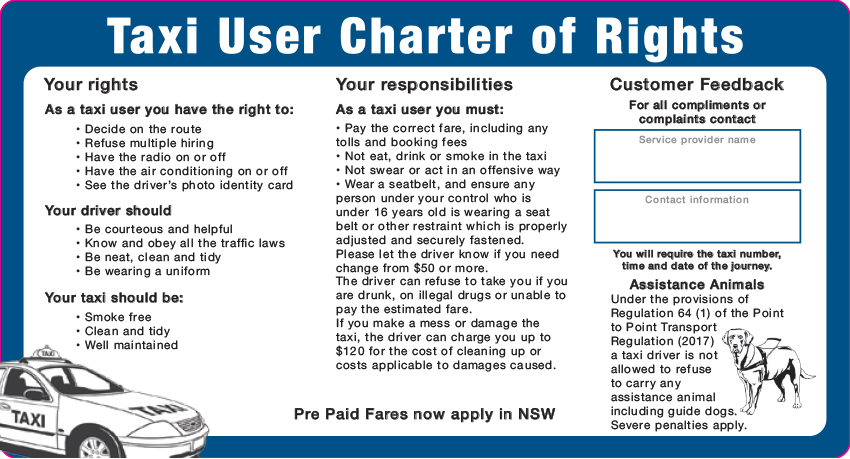 ---
How Your Fare Is Calculated – Standard Taxi (car)
---
How Your Fare Is Calculated – Maxi Taxi
---
Download the TAXI COUNCIL – City Maxi Taxi Fare Calculations 
Download the TAXI COUNCIL – City Taxi Fare Calculations
Download the TAXI COUNCIL – Charter of Rights
---
All refunds will be reviewed and a charge fee of $15.00 will be applicable to all services booked and later cancelled. This cancellation fee will incur a 5% administration fee. This refund may take up to 21 days to be applied.
Vehicle Fare – for licensed taxis, this will be an amount agreed in advance with the Vehicle Operator (Agreed Vehicle Fare) or will be the metered amount plus any applicable extras, tolls and/or airport charges in accordance with the appropriate government legislation (Metered Vehicle Fare). For other vehicles, the fare must be an Agreed Vehicle Fare, i.e. agreed in advance with the Vehicle Operator. Agreed Vehicle Fares are based on a reasonable direct route determined by the Vehicle Operator. Any route variations You request are not included in the Agreed Vehicle Fare and must be further agreed with the Vehicle Operator and paid directly to the Vehicle Operator. For licensed taxis, agreed additional amounts must be a reasonable estimate of the metered amount for the route variation, or otherwise in accordance with applicable law.
CDRC booking fee – For Metered Vehicle Fares, We will charge at the current regulated AUD booking fee for each completed CDRC booking. Agreed Vehicle Fares are inclusive the CDRC booking fee.
Any applicable Booking Fee will incur a Credit Card Service Fee in accordance with our terms.
No Job Fee – applies if a vehicle you have booked turns up at the requested location before you have cancelled your booking and if vehicle the arrives and you are not present at the requested booking location. In this case you will be charged $10 AUD No Job Fee. Any applicable No Job Fees will be charged to your registered default In App payment method, regardless of your chosen method for paying the vehicle fare. Any applicable No Job Fee will incur a Credit Card Service Fee in accordance with our terms.
Repair or Cleaning Fees – You shall be responsible for the cost of repair for damage to, or necessary cleaning of, third party provider vehicles and property resulting from use of the Services under your Account in excess of normal "wear and tear" damages and necessary cleaning ("Repair or Cleaning"). In the event that a Vehicle Operator reports the need for Repair or Cleaning, and such Repair or Cleaning request is verified by us at our reasonable discretion, We reserve the right to facilitate payment for the reasonable cost of such Repair or Cleaning on behalf of the Vehicle Operator using your payment method designated in your Account. Such amounts will be transferred by us to the applicable Vehicle Operator and are non-refundable.  Any applicable Repair or Cleanings Fees will incur a Credit Card Service Fee in accordance with our terms. Other fees are notified to you in advance.
In App Payment Service Fee – in accordance with applicable legal requirements (including notice requirements), up to 5% incl. GST of the Metered Vehicle. This service fee will also apply to any applicable Cancellation, No Job, Repair or Cleaning Fee and/or Other fees.
We will make you aware in advance of your booking if there are any changes to the fees outlined in through the App.
Where we charge you fees relating to services provided by the Vehicle Operator, these are charged by us in our capacity as the Vehicle Operator's billing agent only. We may facilitate your payment of the applicable fees on behalf of the Third Party Payment Provider.
We will ask you to register your credit card or other payment details with us for your use of the Service. We may charge any applicable fees to your registered payment method, subject to complying with relevant legal requirements. If you do not have a valid credit card or other payment details registered with us at the time of your booking, We may decline your booking or require you to pay the vehicle operator directly. All Fees are due immediately, after which we will send you a receipt to Your Profile's listed email address. Fees paid by you are final and non-refundable, unless otherwise determined by us.
We do not designate any portion of your payment as a tip or gratuity to the Third Party Provider. Any representation by Us (on Our website, in the Application, or in Our marketing materials) to the effect that tipping is "voluntary," "not required," and/or "included" in the payments you make for services or goods provided is not intended to suggest that We provide any additional amounts, beyond those described above, to the Vehicle Operator. You understand and agree that, while you are free to provide additional payment as a gratuity to any Vehicle Operator who provides you with services or goods obtained through the Service, you are under no obligation to do so. Gratuities are voluntary.